Part of what we do at ColorFX is make sure that every aspect of the ordering process is a positive one. We offer fully customizable ordering process. Our goal is to make sure you can order the exact quantity and exact size of any item you may need. In addition to this feature we offer instant pricing on our website so that you can budget your cost up front.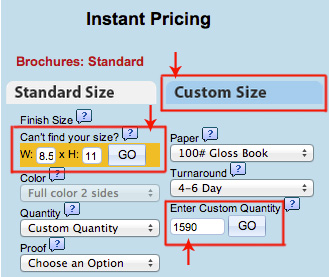 Many companies today require that their clients order a set amount of a certain product, often times forcing the customer to order significantly more or less than what they need. We take great pride in eliminating that problem with our fully customizable ordering system.  This means that if you only need 1590 brochures printed, you can customize your order specifically for 1590 brochures, instead of getting excess prints that you don't need.  This is another innovation Color FX brings to their customer to better help them achieve their specific printing needs. We also have already discounted prices on most products on website.
We are dedicated to creating a business where our customers benefit the most. With the templates we provide for graphic design combined with our user-friendly website, ColorFX continues to be ahead of the industry, providing you with the absolute best.