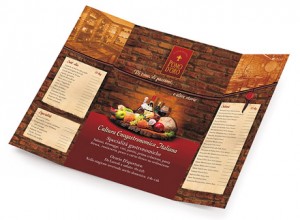 Your restaurant's menu is a vital way to not only draw people into your business but to inspire them to order more food when they sit down to eat.  The presentation and design on your menu is actually a very vital part of your company's success.  Your company can serve the best food in the city, but if your menu does not inspire your clients to order, then it will be hard for the company to flourish.  Original design and great printing combined will help your company's menu work hard for you and bring in food orders and later, word-of-mouth advertising from your happy clients.
Menu Design Tips for You:
Content: Bring something new to the table .

Be aware that you are not the only restaurant that serves what ever it is that you are serving. There are a lot of competitors out there and you should do something to make your company stand out from the crowd.  As you establish your place of business keep in mind that you are building a brand, and for your brand to leave a lasting impression it has to be innovative, original and inspiring. Start with the question: What do I have that other restaurant establishments similar to mine do not have?  The answer to this question should be the foundation of how you design your restaurants menu.
Layout and Design: Aim to be DIFFERENT.
Every company has a story to tell, and you can use your menu as a way to tell part of that story. Consider making color blends that enhance the colors in your establishment and further enhance your brand. You should take time to make sure the layout allows you to fully utilize every portion of space in an effective way.
Menu Copy: scrumptious and direct to the point.
When people are very hungry, they only look two things at the menu:
1- Do you offer a type of food they usually like
2- Is it presented in a way that makes it look delicious
Take time to put images and brief descriptions in your menu that will evoke a response to order.  Ideally the consumer would see several things on the menu that he or she wants and make plans to return.
Paper and Printing: Choose the finest Quality
Use glossy and vivid colors and thicker, possible laminated paper.  This serves as the best material for the printed menus.
When you select a printer, choose one that prints clean and crisp menus, and one that will print exactly what you want, exactly how you designed it. Some color schemes are changed by printers with less quality equipment. Color FX not only offers quality printing, but also printing with test proofs so you can see your menu and approve it before printing them in bulk. ColorFX is a reputable company with the finest quality and excellent customer support.
Once you have already prepped the design for the menu, you may want to check out our professional menu printing services  on the Color FX Website. We offer competitive prices with the highest print quality available..