Custom Menu Printing at Colorfxweb.com
A menu is so much more than a document listing a restaurant's offerings — it's a major sales tool. Color FX Web offers custom wholesale menu printing designed to make an impact. If you're responsible for designing menus on behalf of foodservice businesses, we can bring those menus to life in vibrant color.
There's nothing impressive about a piece of paper listing menu offerings in plain text. In fact, it's rather dull. Every single restaurant patron must look at the menu, so this is the place to let your customers' personality truly shine. Anyone can list a few menu items on a page, but it takes a special something to tell the story behind the business. As restaurant menu printing specialists, our team treats this is as a prime spot to market the business.
The best restaurant menus are both functional and aesthetically pleasing. It's important to ensure that the menu perfectly aligns with the brand image and properly tells the story of the food. Color FX Web is here to help your customers get the menu they've been envisioning.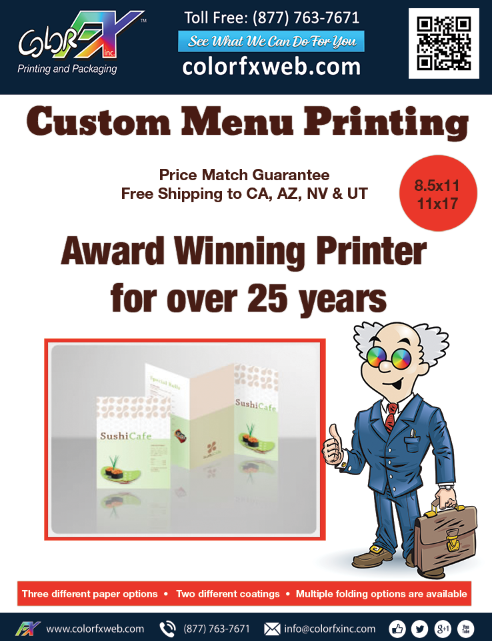 Receive Blog updates by adding your email address below.