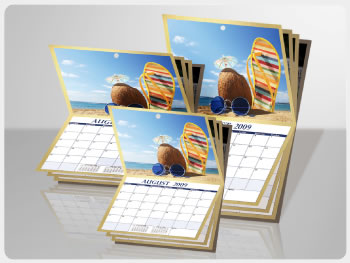 The year 2016 is fast approaching and almost every agency is either sending or receiving calendars in bulk. At ColorFX, Inc. we are here to produce even the most unique calendar printing designs for your clients, with unique size and quantity options to match. Our website is set up like no other wholesale trader printer out there, calculating your price based on your client's very specific print needs. If you have exhausted our options for standard online products, which are many…we will take your custom calendar printing order offline to ensure your production is 100% how your client intends.
If you're planning to print calendars to promote your business there are a few things you may want to consider prior to running your calendar printing.  The first thing you have to consider is the overall theme of your calendar. If you run a pet shop than it's a no brainer!  Your customers or potential customers would love to see a new cute dog plastered on their wall every month, but if you're an accountant you'll have to get a little creative. Regardless of what type of business you own you'll want to try to make the overall theme broad enough to capture a wide audience. That's not to say you should be showing pictures of muscle cars if you're really trying to target women into cosmetics.  Instead think of it this way, going back to the pet shop owner, you can create a calendar to showcases a different type of animal every month because your pet shop encompasses products and services goes beyond just dogs but a variety of animals.
You can also theme your months according to the season. For example, during the month of December you may want to remind your customer that it's a great time to purchase a dog for a love one by putting an image of a dog in a present.  Another good example of cleverly using the Calendar month towards your advantage is if it's March and you're an accountant.  A picture that reminds them it's about that time for their taxes and it just so happens that you know of a pretty nifty accountant that can help.  You can even go as far as creating a special calendar coupon that activates for that particular month.  Be creative!  Your picture will probably have a numbing effect on its viewer as the day goes by during the month.  However, every new month when they turn the calendar's page it's another opportunity to advertise towards your clients.  If you haven't considered the advertising calendar now is a great opportunity to think of if it can help you bring more customers to your business.