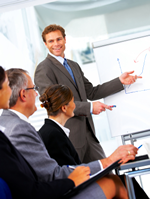 When your company has a chance to make a presentation you are in a great position to build your brand, generate leads and convert new customers. A great way to make a memorable impression is to provide your attendees with material that helps develop your brand and strengthen your message. It is important to take time to figure out what printed material would serve as a useful informational tool, be something your attendees would enjoy receiving and maybe be something they could use in the future.
As you begin your planning start by considering what will happen in the course of the presentation. Your attendees will arrive and quietly visit with others. Following that the presentation will begin and will most likely include an introduction, a thorough message, a strong closing and a time to address frequently asked questions.  Finally, as the attendees are exiting they will inevitably visit with others and discuss the overall impression of the presentation.  With the right print materials, the impression you leave your viewers with can be exciting, unforgettable and a great talking point.
There are several things you can hand out to your guests as they arrive that will get them excited about what is to come. Of course, you can have your notes and handouts that go with your presentation, but there are some creative ways you can enhance this material. Presentation Folders are a great way to help your guests keep their materials organized, but also give you a place to brand your company. This would be something that you could have prepared for people as they arrive.
In most cases, people attending a presentation are looking to learn something new, which means that they will want to take notes. While you can print note handouts and have that in the folder, customized notepads are something that can be useful during your presentation and even after.  Brand your company at the top of the notepads and include that in the presentation folders.
If your company really wants to end a conference or presentation with a bang, plan to leave each person who attended your event with a creative and useful parting gift. Custom printed calendars are a great parting gift and one that is sure to be used for about a year. Make the content in the calendar fun and something your guests will enjoy looking at.
When your company has a chance to give a presentation, keep in mind that while the topic and content of your presentation are important, it is also important to leave your listeners with something they can take away with them that will later remind them of your presentation, and ultimately, your company.  With proper planning and custom printed material your next presentation is sure to be a great success!