Parsons School of Design and Xerox Collaborate on Primer to Facilitate Productive Partnerships between Designers and Digital Printers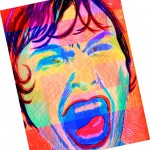 The new generation of designers is learning its craft in a world where everything happens in real time, driving new relationships with technology — and the printing industry.
Examples can be found in every growth area of the print industry. For example, print-on-demand services require designers and printers to share a commitment to frequent, rapid turnarounds. Personalized, variable information printing can improve response rates when creative teams closely coordinate targeting and production with database managers and print providers. And streamlined work processes can save incredible amounts of time and still deliver high-quality output — provided the designer and printer have the know-how to integrate their digital systems.
A new book developed by students in the Communications Design Department of the renowned Parsons School of Design in New York, in collaboration with Xerox Corporation, captures the fresh eye this new generation of designers casts on their new, 21st-century relationships. The Art and Science of Digital Printing: The Parson's Guide to Getting it Right, is a 70-page primer on digital color printing and on optimizing the Xerox iGen4® Digital Production Press, PDF workflow and the Adobe® Creative Suite of software, in particular. It is part of the Xerox ProfitAcceleratorTM program for helping print providers profit and grow — in this case, by giving them a valuable tool for their professional and advanced amateur design customers.
"It's a great piece of work," said Steve Arnold, director of Print Production for R & R Partners, a marketing communications firm with headquarters in Las Vegas. "It offers straight forward, practical advice, and a very creative and meaningful set of demos from the Parsons students." Those demos identify eight key issues for achieving optimal digital color print quality. Excerpts and summaries follow:
Proof early and often. Proofing on digital presses has two significant differences from proofing for offset. First, the digital proof is not a simulation, as it is in the offset process. Rather, digital proofs are printed on the actual production device, permitting the designer to see exactly how the piece will turn out. Second, digital proofs cost far less than high-quality on-press proofs. Consequently, the digital workflow process is based upon designers submitting files, reviewing "press proofs," making any adjustments they desire and repeating the process until they are satisfied. Such aggressive proofing gives the designer unprecedented control, and is critical to digital printing success.
Super black as a creative — not a necessary — application. On the iGen3 press, the most saturated and clean black is produced with 100 percent black dry ink. This differs from offset, where additional "bump" inks are often added to produce the most solid and rich blacks, known as "super blacks." Super blacks aren't necessary with the Xerox iGen4 press, but by adding colors to a 100 percent black base, a rich and colorful range of blacks can be produced. Parsons students demonstrated the intriguing range of possibilities by creating a superblacks process tint guide that shows hundreds of shades of solid blacks produced on the iGen4 press.
Avoid image compression. Image compression enables files to be downloaded more quickly and easily on the Internet — but can cause the loss of valuable image information that cannot be restored.
Parsons recommends working with uncompressed TIFF or EPS files whenever possible, avoiding use of compressed file types, such as JPEG. When files are received as JPEGs, Parsons recommends opening them in an image editing application, such as Adobe Photoshop® CS, and saving them as uncompressed TIFF or EPS files.
Revisiting type sizes. Just as offset type reproduction differs from letterpress, digital type reproduction differs from offset. And the only way to know the difference is to see it. Parsons students demonstrated this by developing a concept for a digital type specimen book that shows a range of typefaces in different sizes and colors, on white paper and as knockout black. Generally, smaller type is more challenging on digital presses than on offset, but knockout type on black can work well on digital presses. Proofreading early and often helps ensure that typeface selections are readable and effective.
Be resolute on resolution. Parsons recommends different resolution settings for text and images. Scans should be produced at 600 to 1,200 dots per inch (dpi) at reproduction size for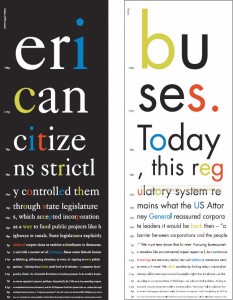 text and line art and at 300 dpi for continuous tone images. Increasing the resolution has minimal impact on continuous tone images. To determine resolution of existing images when scaled to planned reproduction size, Adobe Photoshop has an "image size" tool in its pull-down menu that can automatically calculate resolution at various sizes.
Optimizing large areas of flat tints. While digital color presses are excellent at reproducing color, they perform less well in reproducing large areas of some colors evenly — especially mid-tone tints and long blends. Often they come out fine, but sometimes they show unevenness. Reproduction can be improved by choosing a lighter or darker percentage or using an imaging software, such as Adobe Photoshop, to add "noise," or texture, or to create a tight pattern. Thorough proofing helps ensure that the approach is working.
Using RGB images. Because RGB images have a larger color gamut than the CMYK images traditionally used in printing, maintaining an RGB color space for images ensures optimal color reproduction and greater flexibility. The computer, or RIP, that controls the press is programmed to understand the optimal color translation for the digital press' gamut — work with it and it will work for you.
Make contact with your printer. Your printer operates its digital press every day and should be able to help you optimize your design to best meet the press's spec — and your expectations. Before committing to a job with a new printer, speak with the printer to understand the firm's experience and skill set. A good place to start is the Xerox Graphic Arts Premier Partners global network of more than 350 digital print service providers, including ColorFX in Los Angeles. Once a job is under way, seek your printer's advice on improving your proofs. Digital printing technology is new and still evolving rapidly. Applying your printer's experience to your job can be the difference between "good enough" and "excellent."
The book, The Art and Science of Digital Printing, and the guide on super blacks, will become available over the course of 2008 at Xerox Innovate '08 events, from Xerox iGen4 press customers and from Xerox sales representatives.The book's writers include H. Michael Riebesehl of Xerox and six Parons students: Mackenzie Crone, Drew Gertner, Jillian Harris, Farha Khan, Simona Ternblom and Azadeh Yaraghi. Parsons students Alexandra Shlimovich and Maurice Sherman took many of the photos. Parsons faculty supervisors included Charles Nix, Michael Josefowicz, Charles Robertson and Roy Zucca.