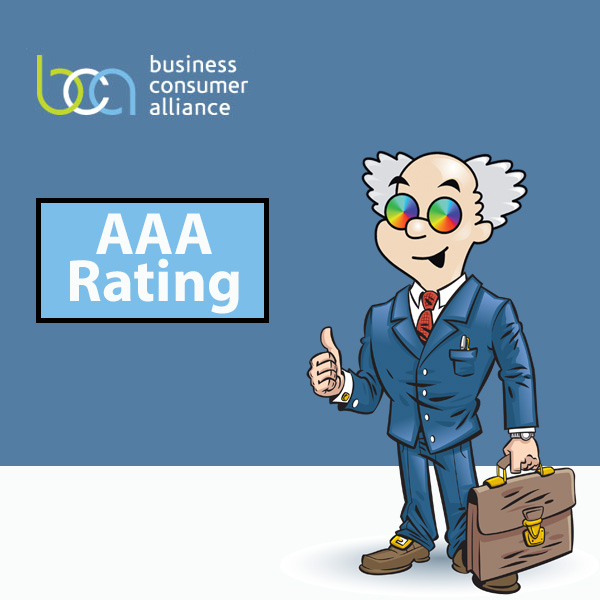 Hello printing friends and welcome to the ColorFX blog!
Before we get into our regularly scheduled printing adventures, we have a very special announcement. The ColorFX team joined the Business Consumer Alliance as a charter member, and we received an AAA rating, the highest possible honor!
What is the Business Consumer Alliance?
You're probably familiar with the Southland division of the Better Business Bureau. In 2013, this branch of the BBB became the BCA to expand its services within the greater Los Angeles area and beyond. The BCA shares the BBB mission of promoting self-regulation in the business community. BCA members must abide by standards of excellence in ethics as well as customer service.
The BCA helps consumers identify reputable businesses through its website where companies are assigned letter grades according to a variety of factors. Grades range from a lowly "F" to an all-star "AAA," and we are proud to say we belong to the latter class.
Consumers are able to influence the grading process by reviewing local businesses on the BCA website. Positive reviews enhance a business' standing, but negative reviews don't simply count against the company as they do on other directory sites. The BCA attempts to act as an unbiased arbitrator in the event of a dispute. The organization allows both parties to respond, which gives everyone involved a chance to achieve a satisfactory resolution.
Business Consumer Alliance ratings criteria
So how did the ColorFX team earn our coveted AAA rating? The BCA evaluates how long you've been in business, your industry's special circumstances (if any), licensing, government actions or regulations, complaints against you, and reviews your advertising efforts for consistency. The AAA grade indicates that there are no doubts about our company's reliability based on the BCA's investigation. Read the full explanation of ratings and the BCA grading system here.
How you can get involved
You can help the BCA fulfill its mission, too. The organization recognizes that consumers like you play a big role in holding businesses accountable. Here are 2 ways you can make a difference today:
#1) Review your favorite businesses
Your feedback on the BCA lets other consumers know who to trust with their hard earned money and who to avoid. Share your experience with ColorFX and other local businesses and be as specific as possible in your explanation.
Now there's a tendency to only post negative reviews online. Of course it's valuable to warn others about disreputable practices, but be sure to share positive experiences as well. The upstanding businesses in the community deserve support and recognition, so make an effort to acknowledge the good apples along with the rotten ones.
#2) Join the Business Consumer Alliance
Are you a business owner? If so, show your commitment to ethics by applying for BCA membership (don't forget to tell them ColorFX sent you). Your membership will demonstrate good faith to your current customers and reassure new clients that your company is trustworthy.
Are you a BCA member already? Have you written reviews on the BCA website? Let us know in the comments below!