Get Ready for the New Year with Bulk Calendar Printing
One of the best forms of advertisement is still the print calendar. Giving clients something that they will use on a daily basis helps to remind them of you on a consistent basis. Every time they glance at the calendar and see your logo or design, they are reminded to shop with you. This constant reminder will even help them think of you more often, whether they are in need of your services or not.
Unlike other small desk gifts, such as paperweights, a calendar is likely to be used and placed where multiple people can see. This gives your company even more exposure with a cost-effective promotional tool.
Create a great design with a bulk calendar printing company. An experienced company will be able to help you get started with bulk calendar printing. Great designs that flow with the theme of your company can be selected, giving people a lasting impression of you and your company.
Calendars as a Promotional Tool
Calendars are a great reflection on you and your company. Custom designs make it easy to add inspirational quotes or important events to the calendar. Use this opportunity to promote your products in a natural and subtle way. Many people add annual sales to the calendar along with holidays to help remind people of the upcoming promotion. As long as this isn't overdone, people will be happy to see the events. Some will even thank you for the great reminder.
You can also use the calendars to advertise your company's values. Showing that you are a responsible company is a great way to increase sales. Use the calendars to show people you care about a specific cause, such as the environment, by adding memos or significant events to the calendar. This will help people maintain a lasting impression of your company.
Giving away a calendar is a very cost-effective form of advertisement. When considering custom print jobs, remember that you can recoup some of your expense by charging people for the calendar. Customers are often happy to purchase a calendar, as it is often something their home needs anyway. This allows you the flexibility to give away your promotional tool or use it as an incentive. For example, give away a calendar with a $20 purchase, offer them for sale, or simply give them away when a new client signs up for your services.
By choosing calendars as one of your promotional tools, you are getting more than a simple product. You are getting a promotional item that people will actually use. You also have the flexibility in design and marketing to help you get the most out of your promotional campaign.
Finding the Best Bulk Calendar Printing Company Online
Finding the best available bulk custom calendar printing company isn't as difficult as it may sound. There are several online companies that help with bulk custom calendar printing. Color FX is an experienced company that is happy to assist businesses with creating custom calendars that meet their needs. Bulk printing calendars from Color FX all use a high-quality material that allows for vibrant colors.
When finding calendar printers wholesale, it is important to look at how experienced the company is along with the quality of the product you will receive. Color FX, for example, uses the latest presses and bindery equipment to ensure that every calendar is well-put-together. Because of their advanced technology, you are able to print the exact number of calendars you need. Soy-based inks and a high-quality post-consumer paper stock not only enhance the overall quality, but are better for the environment as well.
If you are looking for more than a great wholesale calender printing price, you need to work with a company that will do more than just fulfill your needs. Great customer service and templates make shopping with Color FX a breeze. This easy shopping experience will help you save both time and money on your wholesale calender printing.
Get Exactly What You Want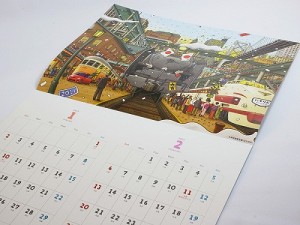 Working with a custom printing company like Color FX has a lot of benefits. Other than the high-quality results, you get the benefit of getting exactly what you want. Plenty of printing options are available to help you get the calendar you need to successfully promote your business.
One of the most popular wholesale custom calendars is the standard printing with a cover. These are printed on your choice of 100# or 80# gloss with either dull or AQ coating. You can also choose no coating. The 11 by 8.5 inch size is perfect for catching the eyes of potential clients and is large enough for people to hang and use everyday. This standard gives you plenty of flexibility to create the perfect look and feel for your calendars.
The Price of Bulk Calender Printing Online
Wholesale calendar printing online is a wise choice. Because Color FX operates online, they do not have a lot of the overhead cost of a typical printing company. This allows them to pass the savings on to their customers. Because their customers see significant savings, many of them are repeat customers.
To purchase cheap bulk calender printing online, all you need to do is visit Color FX's website. From there, you can learn more about their company history or go straight into designing a custom calendar. You will soon discover just how easy printing calendars wholesale can be.