Making the World Greener, One Print at a Time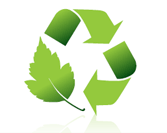 Going green has become an urgent issue in today's world. With the consciousness of green gas emissions and other damaging toxic chemicals exposed to our planet, it is up to everyone to contribute to cleaning up the world.  According to TAPPI, in 2001 the average per capita paper use in the USA was 700 pounds, with 95% of business information still stored on paper. Paper is everywhere and obviously an important part of our functional society. However, this means it can potentially have a negative effect on our society if we don't do anything about it.  This notion should urge more people to actively consider and promote the usage of a safe and environmentally healthier alternatives.
ColorFx takes helping the environment very seriously which is why we are committed to environmentally safe business practices. One of the main ways we contribute back to the environment is that we only use vegetable oil based ink and 100% tree free recycled paper. Our vegetable ink was designed to deliver the highest quality of performance with high color strengths and minimal piling. The paper we use are NOT made out of any water, toxic agents such as bleaching chemicals, and trees.
Our company also subscribes to the paper less program which its main goal is to minimize paper waste during our production within our facility. We enforce this policy by controlling our number of ready sheets by using the same paper more than one time. The paper less program (PLP) is also enforced across our entire business. To top it off, we also choose our vendors carefully ensuring they are also committed to environmentally safe practices. These are just some of the few measures we have taken to contribute back to keeping the environment and the world safe.
For more information regarding how ColorFX goes green, please visit our green printing section.

A Note About Environmental Safety
ColorFX takes not only its commitment to you seriously, but to the environment as well.
We work closely with all our vendors to achieve cutting-edge, environmentally safe practices for our industry. Among those, are low VOC aqueous and UV coatings. VOC stands for "volatile organic compounds," and is a term that denotes any chemical that "outgasses" its components. "Aqueous," as the root "aqua" indicates, means any solution where water is the main solvent.
We also feature chemical-free CTP plates. "CTP" stands for "computer-to-plate," and is an imaging technology in modern printing that allows desktop publishing images to be transmitted directly to plates. Additionally, our printing presses are equipped with pre-impregnated cleaning cloth roll washing system, to further reduce unwanted "output."
All of this, including our chemical-free plates, and low VOC aqueous coatings means far fewer chemical compounds are released from the printing process into the air. Our vendors can "breathe easy" knowing their printing needs are being met in as "green" a way as possible!"
New Initiatives for Green Printing
ColorFX has always been dedicated to using green initiatives for its paper and printing services.  Environmentally-friendly practices have become critical in today's business world.  In our planet we work hard to lessen our carbon footprint and help the environment.  According to TAPPI, 300 million metric tons of paper and paperboard are made each year.  Eventually, most of that paper will be thrown away.  We choose to work with materials that can be reused in order to save trees and find healthier environmental alternatives.
In order to reach these goals, we are proud to use vegetable oil–based inks, recycled papers, environmentally safe practices, and a paperless program that reduces the amount of paper waste throughout our production facility.  Our inks are designed to offer the best performance on offset presses with excellent color strength and Roller stability.  Our staff works closely with vendors to find the newest, safest methods of environmental practice within the printing industry.  This includes low UV and VOC aqueous coating, along with chemical-free CTP plates.  The paperless program used in our facility includes recycling excess paper and control of make ready prep sheets by reusing the paper.