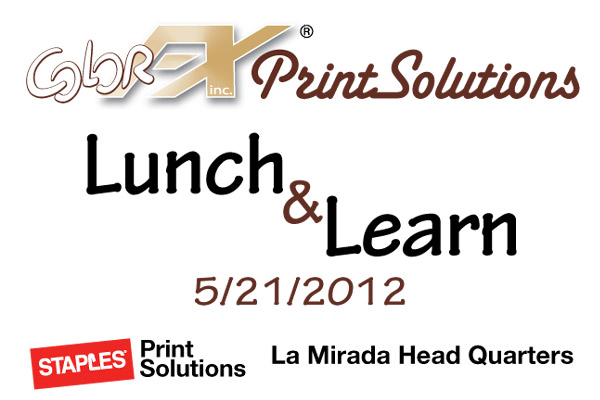 Color Fx Print Solutions had the privilege of conducting their first Lunch and learn seminar for Staples print solutions on 5/21/2012 between 12:00pm and 1:00pm.
Present were Hamlet Tanahan, corporate sales manager for Color Fx print solutions as well as Robert Crawford, Sales manager for Color Fx as well as over 24 Staples key individuals.
The main topic of the day was to share the knowledge with the Staples Buyers about how to purchase packaging and the information needed to obtain from the client to be more cost efficient and to serve them better and achieve the best results.
In addition, different samples were provided to all attendees with the information about digital and conventional printing.
At the end of the seminar we had a Q&A Session.
Result of the Seminar
The first seminar was a success and we will try to set up a new seminar for the Northern California buyers team.
We thank each and every one of the attendees present in today's Lunch and Learn and hope the information was satisfactory and informative for them.
Staples Print Solutions
Lunch and Learn Agenda
Date: Monday May 21st ,2012 Between 12:00pm -1:00pm
Location: 16051 Trojan way, La Mirada, Ca 90638
Facilitator: Color Fx Print Solutions.
Background of ColorFx Inc.,
ColorFx Inc. is a family owned and operated printing enterprise that was established in 1995 and is located in Sun Valley, California. Our facility consists of 28,000 square feet of pure production that has been our home for over 17 years.
ColorFx Inc. has, as its foundation, a commitment to quality. This foundation combined with the latest in production digital and commercial offset technology with state-of-the art equipment is what distinguishes ColorFx Inc.
Discussion Topics:
A-Brief introduction of Color Fx Print Solutions and the capabilities.
B-Main Topic of the day to talk about packaging.
Open discussion and suggestions.
A-Find out from everyone what their current needs are and how we can assist them.