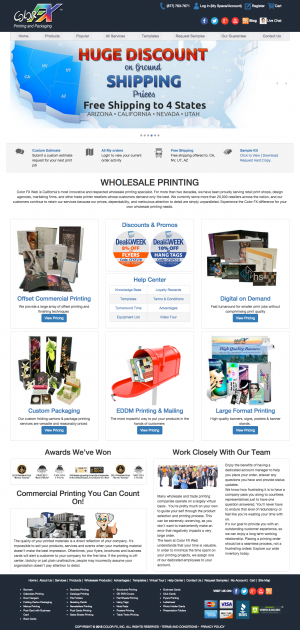 After months of development, we are so excited today to announce the release of our new website.  We put a lot of attention and care into creating this site, which you would expect no less from a quality print company like ColorFx.  We really designed the site with the customers in mind. We wanted your online printing experience to be simple, intuitive, and efficient.  That is exactly what you get when you come to ColorFX for your printing solution.
The website not only provides a service for customers seeking affordable quality printing online but also caters to clients who are interested in wholesale, trade, and commercial printing.  We've really made it a point to expand our versatility so that our customers benefit the most!
Among some of the new features you will notice right away include:
Instant price quote system
New improved shopping cart
Easier Navigation
Stunning graphics and design
Live Chat Customer Support
Let's not forget of course the implementation of this blog, which is just one of the many new resources we offer on our new website. In the months to come you will also notice ColorFX's increase activity and presence on social media sites as well.  We want to make sure our valued customers have multiple channels to communicate, interact, and follow ColorFX.  We are truly blissfully overjoyed about the launch of the new site.  If you haven't had a chance to see the site now would be a good time to take a look, and you'll see why our brilliant customers choose ColorFX as their online printing company.