Professional Business Card Design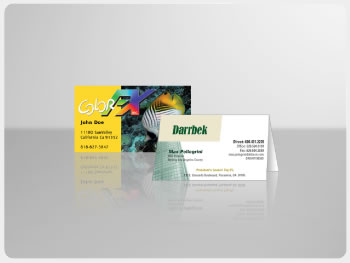 If you're an entrepreneur or you do a lot of business networking than you understands the importance of having a business card.  In fact, the business card is one of the most fundamental requirements for the average business man.  Unfortunately, it's such a common scenario for someone to easily forget about you especially when people often create "forgettable" business cards. The common business card usually consists of a plain white card with the name of the person or company and basic contact information.  With everyone using such a similar format it is no wonder why most boring business cards find their way into the trash can.   This is why it is so important to make your card stand out from the sea of mundane business cards.
With that said, the challenge really is creating a business card that stands out but still maintains a professional demeanor.  Depending on how flexible you are in how you want to "portray" your image in your business card this will determine the design choices you have at your disposal.
We will be examining the following elements more closely:
Color Choices
Layout
Logo and Pictures
Typography and Font
Let's dive into this concept some more and figure out how we can break down the business card design process from various prospective.
Continue Reading…
IMI's 6th Annual Security Printing Conference
The Information Management Institute (IMI) will be hosting the 6th Annual Security Printing conference on November 16-18, 2009 in Baltimore, MD. The conference will be addressing key issues and concerns regarding brand protection and secure printed documents. The conference will include presentations from Appleton, Buena Vista Resources, Elaine Bresnick Consulting, Eastman Kodak, FBI Laboratory, JOEL Global Product & Brand Security, Heidelberg, H.W. Sands, InData Systems, Lexmark International, Magellan Consulting, Methode Electronics, NAPHSIS, NTRERA, Optodot, Polyonics, Schenk Vision, Schofield Imaging Associates, SICPA, U.S. Secret Service and Xennia Technologies. For more information or registration visit www.imiconf.com. Continue Reading…