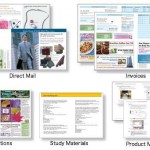 In the last 20 years, the creative process has undergone a nearly total digital transformation, giving creatives the power to eliminate steps in the workflow, deliver new value and change the way clients are served. Here are some helpful hints for managing this expanded creative latitude.
Follow the standards. Standards like SNAP, GRACOL, SWOP, PDF and PDF/X help enable today's ever-faster turnarounds, ensuring smooth handoffs from creatives to pre-press and printer.
Simplify the workflow. By moving to a total digital, standards-based workflow, many creative agencies and production operations move at much faster paces, with fewer people.
Explore elegant digital typography. Much like offset, high-end digital presses are excellent for reproducing solid text with fine lines and serifs as small as four point.
Specify Pantone colors as spot colors. This allows most digital printing systems to achieve the best match to the original spot ink by using an optimized Pantone matching table.
Mix paper stocks. Digital presses allow automated intermixing of different insert and cover stocks within the job, with no waiting for ink to dry. And they retain vivid color across all papers, even uncoated stocks.
The basics still apply. Many of the same rules apply in variable digital printing as in offset and gravure. It's not enough for the pages to look spectacular; the designer still has to pay close attention to details, such as type readability.
Use "On-Press Proofs." Digital presses can switch between jobs on the fly, permitting printers to easily produce on-press proofs that are the exact output of the job, on the same paper. This eliminates the need for simulated proofs produced by offline proofing devices.
Make final tweaks. With the all-digital workflow of a digital press, late revisions and many color and image quality adjustments are more easily accepted  and applied – a major advantage for  variable digital printing.
Explore new applications. Cross-media, variable information and on demand communications programs are all ideally suited to digital printing, and they provide a valuable service to clients who want to provide the most timely, accurate relevant, and persuasive information.