Tag: wholesale menu printing
Happy Thanksgiving!
Happy Thanksgiving from ColorFX. Thanks to all of our loyal customers!
#thanksgiving #happyholidays

How to Create the Best Menu for Your Restaurant
If you run a restaurant, one of your biggest assets is a high-quality, well-made menu. By taking a few simple steps, you can easily create the best menu for your restaurant.
First, it's important to narrow your menu down to a specific type of cuisine. What do you specialize in? Is it generally Italian? Maybe it's more regional such as Tuscan? By narrowing down your menu to a specific regional type of cuisine, you'll set your restaurant apart. Next, decide on the size of your menu. Some customers find large menus difficult to navigate. A small menu with select dishes gives your customers only your best, and can also help your cooks and servers do their jobs better. Finally, make sure to choose quality materials for your menu. With a unique, easy to navigate layout and bold fonts, your customers are sure to come back for more.
Here at ColorFX, we offer many templates and styles to customize your menus. Your restaurant is sure to benefit from a well-made, quality menu that displays everything your restaurant has to offer. With affordable prices and thousands of options, you won't regret choosing ColorFX for all your menu printing needs!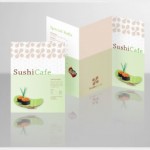 Receive Blog updates by adding your email address below.