Wholesale EDDM Postcard Direct Mail Printing at Colorfxweb.com
Our direct mail printing service is one of the most cost-effective ways to advertise your clients' products or services. We've been in business for over 20 years, and have delivered countless customers with the great products and individualized care. Call us at (877) 763-7671, or email us at info@colorfxinc.com
#EDDM #DirectMail #eddmpostcards #printing #colorfxweb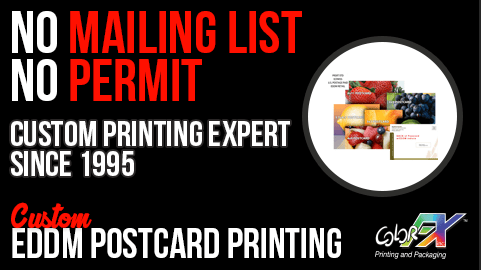 Save
Save
Save
Save 12% on Postcards and EDDM for orders over $100 at Colorfxweb.com
Marked by their simple effectiveness and affordability, postcards have carved their own niche in the world of marketing with a number of valuable applications. First, they allow you to hone your target demographics to a specific, usable cross-section of what is first a looming amount of data. Next, Postcard Printing establishes an instant connection with prospective clients and customers because postcards aren't hidden or encumbered by envelopes like their direct mail counterparts. These benefits, however, will only befall the marketing entity that knows how to effectively market their products and services on a postcard. Without a definitive direction, specificity, and a powerful image, it is very difficult even for postcards to avoid the waste bin.
Before diving into the tonal elements of the picture itself, you must first establish a definitive direction. This is based on the reaction that you want your postcard to have on the consumer and as such should act as a guide for the rest of the decisions involved in production of every aspect of your marketing message. Whatever your exact approach is, the general goal is that the consumer is intimately acquainted with your brand or brands, and will contact you or physically come to your store.

ColorFX Postcard Printing
A Postcard is a rectangular piece of card stock intended for writing, advertising and mailing without using an envelope and at an affordable rate with maximum advertising impact to your audience.
Postcard Printing is one of the most cost effective ways to distribute your message to others. It is highly used in direct mail marketing. Postcards need to have a good design to be effective. Also, Printed Postcards should be of high quality. Postcard printing at ColorFXweb.com is done based on a standard of excellence.
ColorFXweb.com postcard printing services are done using high-quality and durable card stock that will suit any of your postcard marketing needs. By choosing online postcard printing, you're ensuring that your postcards are printed and delivered exactly the way you want them.
A wide choice of postcard sizes is also available to help you order perfect custom postcard printing. Our offset postcard printing would save you a lot and our high-quality on demand digital printing will meet your on demand small quantity needs.
Postcards are ideal because you can put an eye-catching image or logo on one side of the Postcard, while keeping your business information on the other side.