Limitations to print on the spine of a perfect bind cover
On a perfect bound or double loop cover, you may print the entire area of thespine, but be sure to consult with us beforehand. You'll need to measure the spine using a bulking dummy to be sure of the exact width. Ink coverage that traps to scoresor bleeds across the spine will also need close attention to ensure proper registrationand to avoid cracking. In addition, perfect bound books will need four scores on the cover [two backbone plus two hinge] for durability and to protect any glued areas when opening. The paper you choose is also a consideration for perfect bind books; text and cover pages must be parallel with the spine or the covers may wrinkle.
How do I get a grayscale image in a CMYK document?
Grayscale images that are converted to CMYK will have a color shift in the final print. That shift may be green or yellow.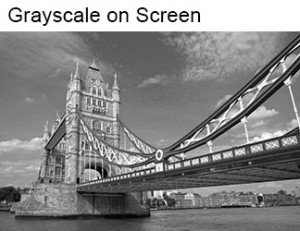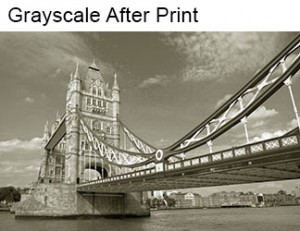 Don't forget to check the CMYK values of your grayscale image in the final CMYK document. If there are other values than K in your grayscale image, there is a chance that the color will different.
To eliminate all values other than K, use your Channel Mixer (adjustment layer) in Photoshop, then click "Monochrome" and adjust accordingly. Please see the example below: