Compare our prices with our competitors and be amazed at Colorfxweb.com
QUALITY – At ColorFX we have our own set of standards. We don't judge our printing services based on how they compare to those provided by other full-service printing companies. Our printing company maintains the most rigorous quality control program we have ever encountered in the industry, and it shows. Many printing companies choose to resolve problems after they occur, but all too often the damage is already done to your relationship with your customer. We know your reputation is on the line with each and every print job, so we go the extra mile and do everything in our power to keep your reputation as bright and shiny as our own.
PRICE – The phrase "satisfaction guaranteed" has become so overused in marketing it's hard to imagine it has any real meaning. Here at ColorFX it has real meaning. Here what counts is your idea of satisfaction, not ours. Since each customer has different needs, it seems unlikely that everyone could be satisfied with exactly the same printing services. Our main goal is to take whatever steps necessary to ensure that every one of our customers and end users is completely satisfied each and every time we are trusted with printing projects. From our own marketing department and sales staff, to production, administration, and management, we have made a commitment to ensure that your printing materials become a source of pride for you. Let us apply our attention to detail and relentless pursuit of perfection to your next printing project.
SERVICE – At ColorFX, Customer Service is not just a department, it's an integral part of our corporate philosophy. In a way, customer service is the product we are selling. There are many who can sell you quality printing services, but with ColorFX the icing on the cake, the pièce de résistance, is an attitude that each customer is different and each has needs that can be uncovered, understood, and acted on. Everyone here knows that this attitude is what sets us apart from other printing companies and what always makes fulfilling your printing needs such a rewarding experience.
TURNAROUND – It doesn't take long working with ColorFX for worries about turnaround time to take a back seat. We know that our customers often have tight schedules with their own clients. If we don't deliver when we say we will, it reaches all the way to the end user who becomes inconvenienced, disappointed, and at times led to question their decision to work with the vendor. At ColorFX we are there for you with the understanding that on time is the only option. Take advantage of the turnaround time choices we make available so you can meet every deadline with confidence.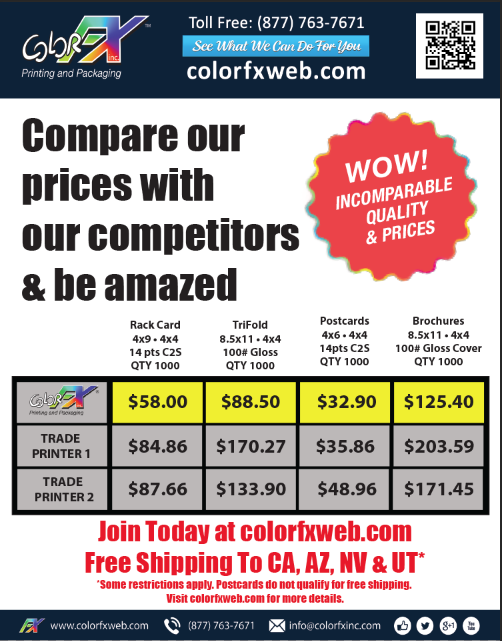 Need a Presentation Folder? Contact Colorfxweb.com
Professional calendar printing is a highly intricate process, requiring specialized equipment and flawless attention to detail. If you're a designer, marketer, or other trade professional on whom consumers rely for quality printed materials, Color FX Web can provide you with the wholesale calendar printing solutions that you need to bring your customers' visions to life.
We fulfill custom calendar printing orders in three sizes: standard 11" x 8.5", medium 11" x 11", and large 12" x 12", with or without covers. Within these size ranges exists an almost infinite range of customizable options. Looking for 100# glossy book paper? We've got that. How about the number of pages? We offer 24, 28, and 32 page lengths as standard, but we can customize your order as needed. We offer from 500 to 30,000 calendars per order, and anything in between.
At Color FX Web, we take pride in every custom calendar printing order. Our specialized customer service means that we may take a bit longer than the competition, but unlike the competition, we can guarantee your order will have the lowest redundancy and the fewest mistakes. We care about your needs just as much as you care about the needs of your customers. The best way to maintain our #1 rank among printers in the state of California year after year is to make sure your order is just what you're looking for, every single time.
And that is only the beginning of our available options. We can mix and match paper weights, ink types, paper coatings, special bindings, printing sides, quantity, and turnaround times to provide the ultimate in customization for your customers. Why wait? Register with Color FX Web today.
#CalendarPrinting #printingcalendar #calendar #colorfxweb #colorfx #booklet #catalogs #tradeprinter