Tag: catalog binding options
Save 10% off on Catalogs & Brochures from Colorfxweb.com
Our catalog printing service features:
Large selection of paper stocks for printing, as well as a number of coating options, depending on your selected stock.
Virtually unlimited combinations of custom sizes and orientation for a distinctive look.
Choice of binding, including saddle stitching, perfect and spiral binding or wire-o.
Choice of the exact quantity of catalogs needed; most printers only offer fixed-quantity increments, making our wholesale catalog printing more affordable and sustainable. #catalogs #brochures #printing #losangeles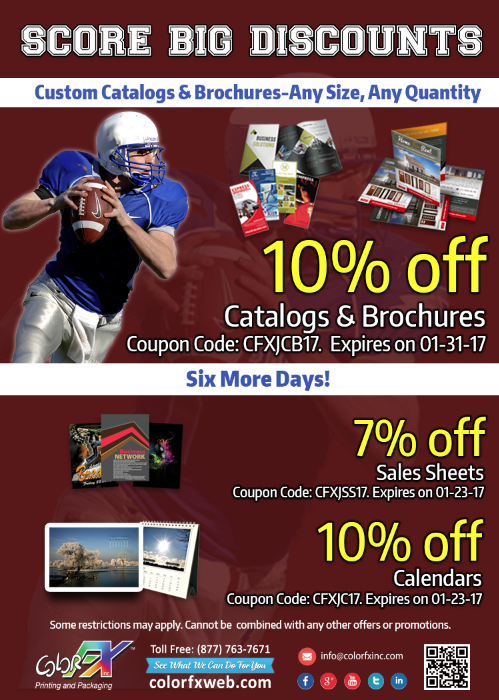 Save
Five Reasons to Print Catalogs
Are product catalogs out of date? Some marketers would argue that they are. They would suggest that the only catalog you should be using is an online catalog. US Postal Services prices for mailing catalogs are higher than ever, they say, while an online catalog remains low-cost and infinitely scalable. However, there are still good reasons to use a printed catalog. Here are five of them.
1. Your target audience is more likely to purchase from a printed catalog.
While it's true that nearly everyone is online these days, even your granny, not everyone is comfortable yet with making many of their purchases online. Different businesses target different demographics; you should consider your "perfect customer" and research their shopping habits. You might find that some audiences – particularly senior citizens and the elderly – are still more likely to make purchases through mail-order print catalogs than through online catalogs.

2. You print a few catalogs just for visitors to your store.
While color catalog printing on a mass scale for mail-out purposes can be extraordinarily expensive, this is certainly not the only use for a printed catalog. Another way to use a product catalog is to print a small run and keep them on-hand for customers who come in for more information to your retail store. This will minimize your expenses while still providing professional, high-quality catalogs for customers who would like them.
3. You print thinner catalogs for mail-out at critical times of the year.
The days of sending out large catalogs on a monthly or quarterly basis are numbered for most businesses. However, every business has a special time of the year when a mail-out catalog can boost profits. For certain retailers, it might be the holiday season. For others, it might be the start of the school year. A smaller catalog highlighting only season-specific items is an excellent way to capitalize on seasonal business opportunities.
4. Your catalogs are designed specifically for one-time events.
Trade shows and other one-time events are a great time to print a product catalog to attract prospective clients. For this type of catalog, highlight the products that will most appeal to the trade show audience, then direct them back to your online product catalog where they can see additional options and products. A full-color catalog that you can place in someone's hand as they walk by your trade show booth is an effective use of your offset printing marketing dollars.

5. You're using catalogs as part of your sales kit.
When you send your sales force out into the field to meet with potential clients, they need to have more to offer at sales meetings than a website address. Putting full-color catalogs into the hands of your sales force is a great use of a printed catalog. During the meeting, the sales person can flip through the catalog to show the prospective customer exactly which products would be best for his or her situations. After the meeting, the customer still has the catalog in hand to browse through as he or she makes a purchasing decision.
Remember, just because online catalogs are all the buzz in the marketing world doesn't mean that you should rely exclusively upon your online catalog. Catalogs are still relevant to your business if you learn how to use them in an effective, meaningful way. The right catalog can still make the difference in closing a deal.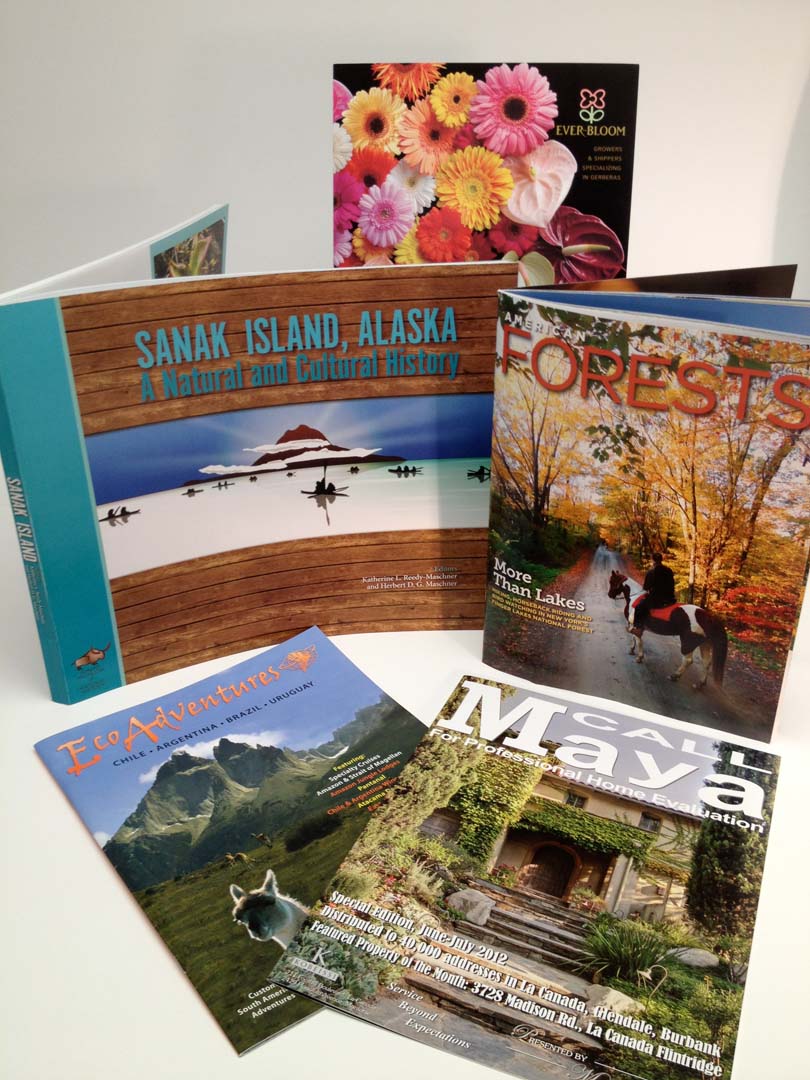 Why You Should Use ColorFX
ColorFX, Inc. is a family-owned and operated printing enterprise located in Sun Valley, California, just north of Burbank, off the 5 Freeway with easy access to the 118, the 170, the 405 and 210 Freeways. Our facility for wholesale trade printing consists of a 30,000 square feet freestanding building that has been our home for the past 20 years.
TO BETTER SERVE YOU, ColorFX, Inc. offers that intangible extra-pride. We are proud of being the latest generation of a centuries-old craft. The technology that we employ are the tools to achieve what has always been the goal of the true craftsman – sparkling quality in wholesale printing. It is this culture of excellence at ColorFX, Inc. that causes each member of our staff to be proud of identifying themselves as a printer.
ColorFX, Inc. has, as its foundation, a commitment to quality. This foundation combined with the latest in production digital technology and state-of-the-art equipment is what distinguishes ColorFX, Inc. Our customers have come to rely on these three dimensions of service, and in the process, have become heroes to their own trade customers and successful businesses.
To provide the most convenience to our trade customers, we have one of the most comprehensive and user-friendly custom websites. By simply logging on to www.colorfxweb.com and accessing MySpace, you have the ability to do the following:
• Get Free Estimates including Shipping • Log of all your Estimates • Log of all your Orders • Have your own Dedicated Server space for files & data • Upload any Files from your Dedicated Server • Preflight Files • Approve Jobs for Printing • Track your Job's Progress • Pay Online with different Payment Methods
We provide printing delivery services to all of our clients by request. We can also ship with UPS ,Trucking with Blind labeling and third party deliveries. ColorFX, Inc. will continue to upgrade our existing facility and equipment to provide the highest quality of wholesale trade printing by utilizing the newest technology with Quick Turnaround Times and the Most Competitive Prices. Our goal is to earn your loyalty and to prove why our trade slogan is and always will be "Customer Service Is Our Priority".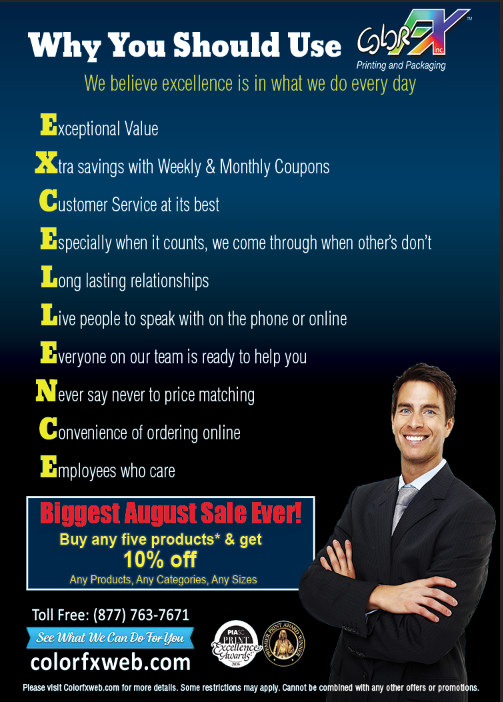 Receive Blog updates by adding your email address below.